Smartfold and Ecofold boxes
Ecofold Box 
A compact folding system with extremely easy and intuitive folding and unfolding. Dunnage is attached to the box thanks to its sophisticated design and it is a part of the box, even when folded.

This unique design brings indisputable advantages as it saves time when folding the box, when it does not need to be stored separately.

That prevents its damage or loss when removing and transporting separately.

The design won the 2008 Packaging of the Year and 2008 WPO awards (World Packaging of the Year).  
   
SmartFold Box
Unlike standard solutions, the SmartFold Box brings many advantages and innovations.
Advantages:  
Considerable time savings when folding/unfolding the box as dunnage does not need to be pulled out and stored separately.

Prevents damage/devaluation of dunnage caused by removing and transporting separately.

Faster and transparent registration of a single-piece compact unit upon acceptance and shipment, without the need to look for a complete assembly formed by several parts (box, lid, dunnage).

The SmartFold box saves capacity during transport and storage 25 % of capacity when compared with other compact folding or Tri-Pac systems with inner dunnage when dunnage has to be removed before folding due to the lack of space.

The SmartFold Box by PPO GROUP CZ, s.r.o., has quickly become popular thanks to its original and innovative design.

The Box won the 2007 PACKAGING OF THE YEAR award in the category of shipping and technological packaging.

It was the seventh award that the Company had won.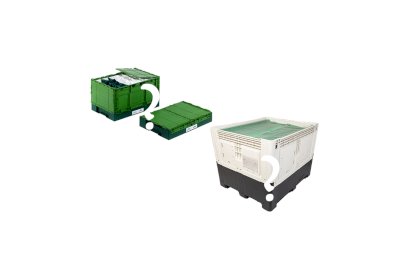 These are folding systems with a very simple and intuitive folding system.